We tagged and released our Monarchs on Sept 16th. They are now on their way to join the Monarch Migration. We appreciate our visitors who have supported us this summer and those who helped us tag these beauties and helped Monarch Watch with this citizen science project.
The butterflies will be available next year, 2024, Mothers Day weekend, the second Saturday in May through the 3rd Saturday in September.
Flying Flowers was erected in October 2009 and was officially opened in May 15, 2010. Butterflies have been called by many names over the years and as they flit through the blooms in the gardens they have always reminded me of 'flowers on the wing'. This is where the name Flying Flowers came from.
Flying Flowers houses native butterflies and the specific plants they need to complete their life cycle. Join us for a program and walk amongst the butterflies.
We have specialized in butterfly plantings using both native and non native plants and have identified 32 different butterflies. We garden naturally with no pesticides or chemical fertilizers and grow a wide variety of native and non natives. The large diversity of both host and nectar plantings attract butterflies in their adult stage which then lay their eggs in the garden and the cycle begins again.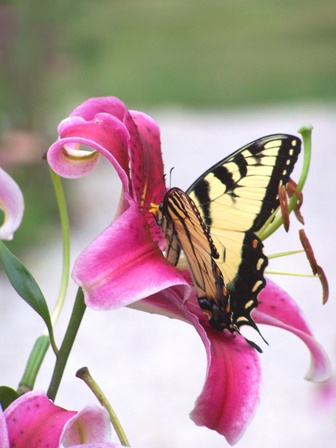 This photo is what I think of when I think of butterflies. This beauty is an Eastern Tiger Swallowtail enjoying a Stargazer Lily, which was one of my mothers favorite flowers.

Flying Flowers

is a tribute to my mother who loved lilies and the butterflies which visited them.
We are located 10 miles south of Wytheville, VA. in the beautiful Blue Ridge Highlands a 210 acre oasis nestled in a valley between forested hills. This location provides privacy and serenity for both us and the butterflies.
Hiking trails traverse a wide variety of ecosystems on the property and there is a huge native population of butterflies which inhabit the surrounding gardens. Click here https://beagleridge.org see more about the outdoor gardens.
Contact us at beagleridge@gmail.com or 276-621-4511 for additional information.