The butterfly house is closed for the season. The Monarchs were tagged and on their way to Mexico.
Join us next year on Mothers Day weekend when we open the house for 2020.
Be sure to bring a camera. Come learn about the life cycle of the butterfly and see eggs, caterpillars and chrysalis. This September our visitors learned about the migration and instruction on how to catch a butterfly and then are given a net to catch, tag and release a Monarch. We tagged 174 Monarchs and they were released during our event.
Check out our picture page to see past events pictures.
Be sure to bring a camera with you.
Email us if you have any questions and we hope to see you soon.
If your school or organizations would like a program on butterflies, or wish to schedule a field trip for our fall tagging event
email: beagleridge@gmail.com
Welcome to Flying Flowers - come in and enjoy the trip.
This photo is what I think of when I think of butterflies. This beauty is an Eastern Tiger Swallowtail enjoying a Stargazer Lily, which was one of my mothers favorite flowers. Flying Flowers is a tribute to my mother who loved lilies and the butterflies which visited them.
Butterflies have been called by many names over the years and as they flit through the blooms in the gardens they have always reminded me of 'flowers on the wing'
Flying Flowers

houses native butterflies which include the specific plants they will need to spend their life cycle with us. Join us for a program and walk amongst the butterflies and even enjoy a Butterfly Tea. The structure was erected in Oct. 2009 and we opened to the public with a release into the house on May 15, 2010. Check out the picture gallery for pictures over the years.
For those of you who have visited Beagle Ridge Herb Farm before you know how many butterflies we have living here with us. We have specialized in butterfly plantings using both native and non native plants and have identified 32 different butterflies. We garden naturally with no pesticides or chemical fertilizers and grow a wide variety of native and non natives. The large diversity of both host and nectar plantings attract butterflies in their adult stage which then lay their eggs in the garden and the cycle begins again.

We are located 10 miles south of Wytheville, VA. in the beautiful Blue Ridge Highlands at approx 2,600' elevation. Our host site at Beagle Ridge Herb Farm and Environmental Education Center a 160 acre oasis nestled in a valley between forested hills. This location provides privacy and serenity for both us and the butterflies. Hiking trails traverse a wide variety of ecosystems on the property and there is a huge native population of butterflies which inhabit the surrounding gardens. Click here http://www.beagleridgeherbfarm.com to see more about the outdoor gardens.
Contact us at beagleridge@gmail.com or 276-621-4511 for additional information.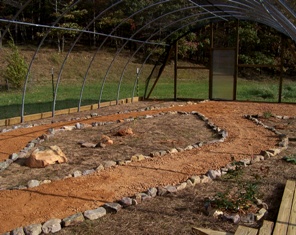 This was how things looked in Oct 2009. Boy have things changed. We now are full of color with plenty of nectar plants and of course lots of host plants for the egg laying requirements of our butterflies. Scroll down to see some shots of the release in May 2013 and come see for yourself.
Build it and they will come, and they are here.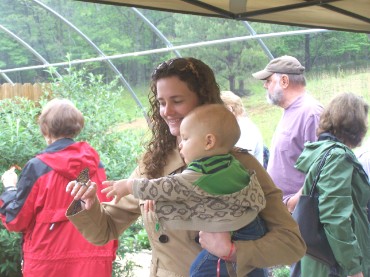 This little guy was enamored with the Monarchs. He was so good,never crying even though he wanted to touch it.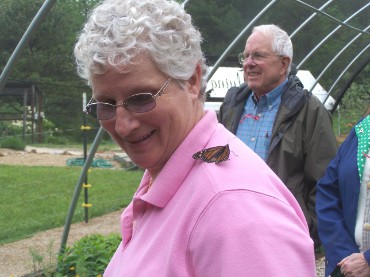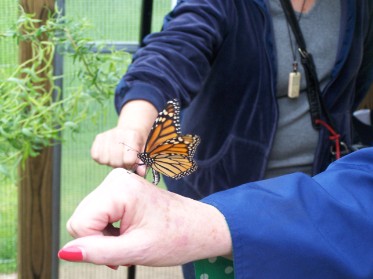 Friendly hitch hikers at our release. In spite of the periodic rain we had a great day.
With these shades she was ready for her adventure at Flying Flowers . This Monarch obviously thought she the "real " thing.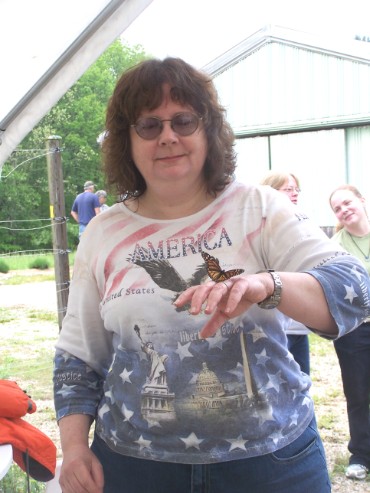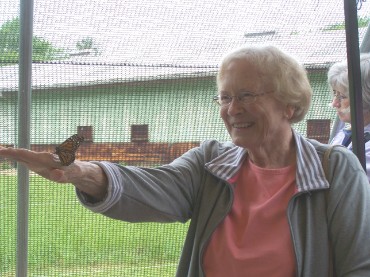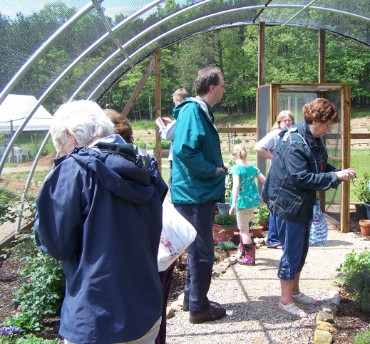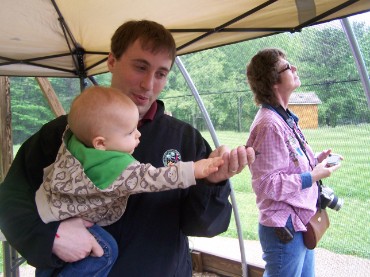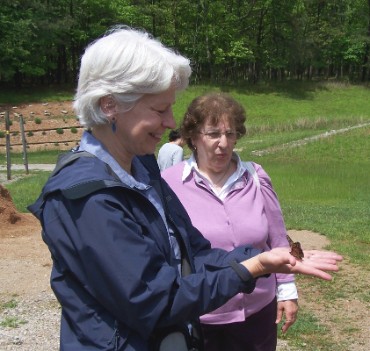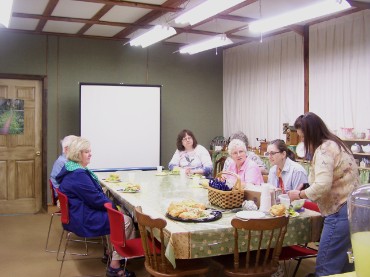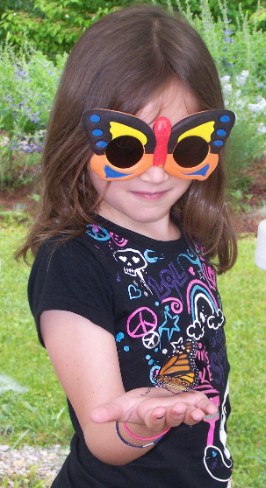 We released some Monarchs into the gardens and they enjoyed visiting the guests, we let the rest loose into the structure.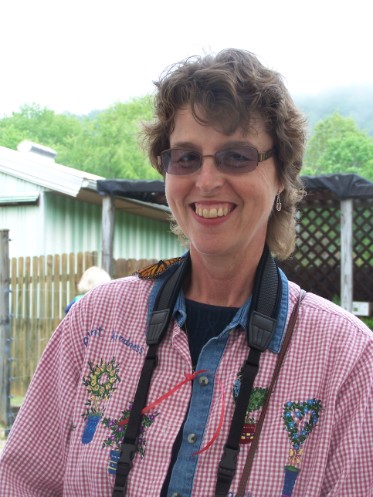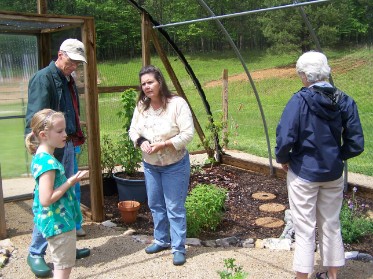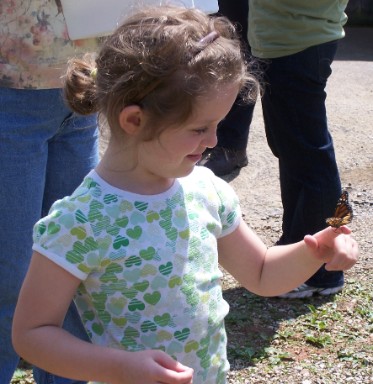 Guests were treated to a wonderful cake which Barbara made for the occasion. Everyone raved about it, pretty and delicious too.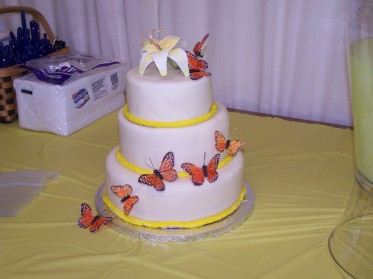 Alleghany Master Gardeners had a light lunch after their visit..
Within hours of the release Monarchs may begin to mate, next step laying eggs on the milkweed. Click on the lifecycle link to see her laying eggs, as well as other inhabitants.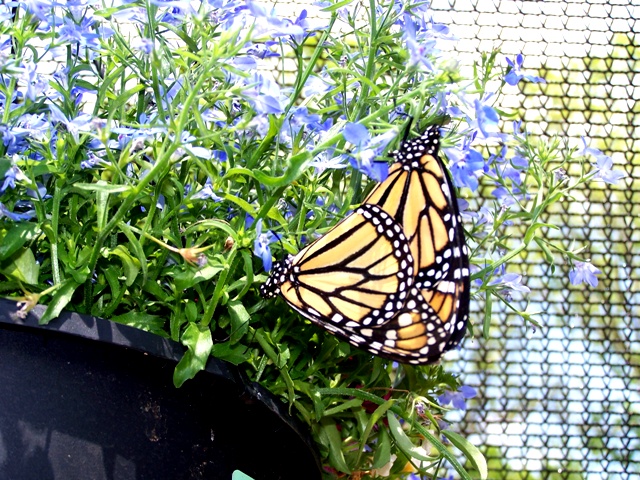 One corner contains some wetland plantings Spice Bush,a Silky Dogwood and a couple of wetland shrubs. In addition we have added some wonderful native flame azaleas and the butterflies obviously are enjoying them. The azaleas were provided by William Roberts, an amazing horticulturist who actually grew them from seed, yes he even collected the seed.